Luxury Home brings luxury to a whole new level. As a Hua Hin property owner here, you will have the chance to create your own customized villa. You get to choose among various types of granite, ceramic and marble products so that your property is truly what you have always dreamed of.
The villas in the new resort will range between 570 and 1200 square meters so that you have all the space you need. Aside from that, a long list of facilities in the resort will make your life much easier and they will allow you to really enjoy everything at its very best.
All in all, Luxury Home project is bound to charm you at first sight. Located in Hua Hin, a place with a royal history and with lots of attractions, the villas in this resort provide their owners with the best comfort and with great relaxation as well. The villas are all built according to the highest standards in the industry – and they will definitely steal your heart from the very moment you lay your eyes on them.
The electric system according to European standards set up by French company Touch Power.
Luxury finishes, designer kitchens, marble countertops, high-end electrical appliances, excellent service and a gorgeous view every time you wake up in the morning – expect this from Luxury Home.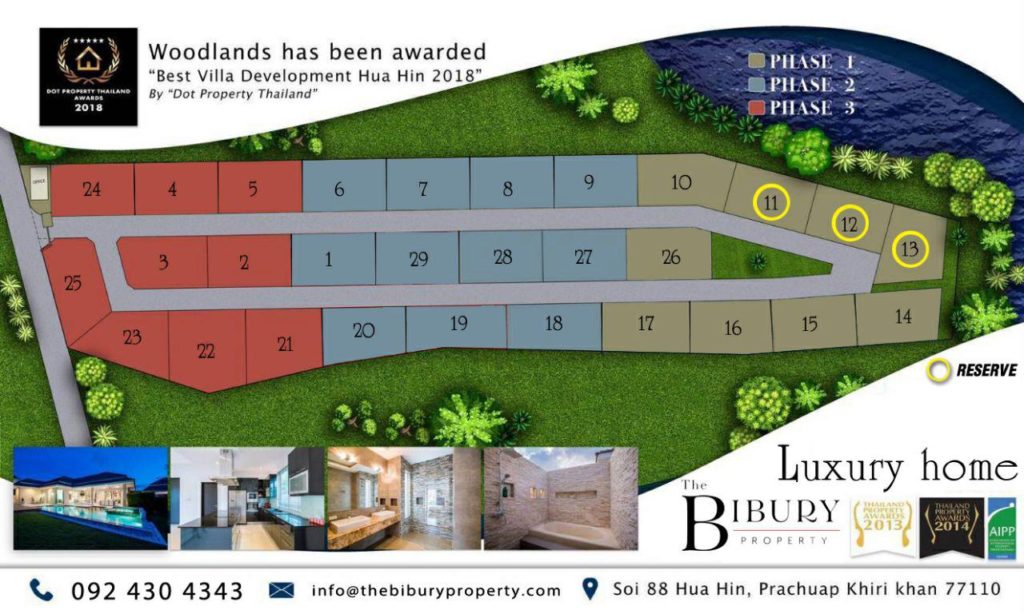 Great Location
Luxury Homes is located only 9 km from Hua Hin and the central beach in a stunning, elevated mountainous area with a natural river. The immigration office is 1.7 km away. Close to bypass road directly to Bangkok (only 250 km.)
Luxury finishing products
Using brand names only for all components, kitchens, bathrooms, built-in furniture, all electrical goods, air conditioning, high ceilings, over-flow pools, granites, sand stones, marbles, stainless steel electric gates, alarm systems, etc
Design, Architecture & Drafting
We can help plan the look and layout of your villa and help with design for truly custom results.
Large plots 
The villas offer very spacious interior and exterior living space with individual land plots ranging from 570 to 1,200 sqm
The Bibury Property. We're here to help you.
Your feedback and questions are important to us.